Jewellery care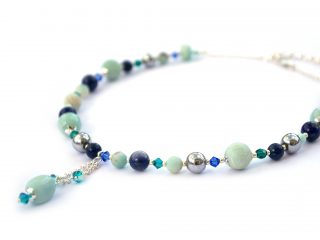 A few tips which will prolong the life of your jewellery
Avoid spraying or coating the jewellery with beauty products (hairspray, perfume, oils) as this can affect the finish on some beads. It is important to wait until creams and oils have been fully absorbed before wearing your jewellery.
Store your jewellery in separate bags or boxes to protect it from damage, and away from direct sunlight.
Some metals will tarnish, even sterling silver. Gently polish with a very soft cloth to bring up the colour. If the item is plated, for example some of the hematite or the metals, take particular care when cleaning and avoid using anything abrasive. Generally speaking, the coat of electroplating is quite thin and it will eventually wear over time. Brass will take on its own patina over time as it meets with the air and become more vintage and 'worn' looking. This isn't a bad thing, it just depends how you want your jewellery to look.
Gold filled items are different to plated ones. Gold filled metals have a much thicker layer of gold which is mechanically bonded to the underneath base metal. Consequently, the life of these items is far longer than electroplated jewellery and should, with good care, last many years.
Do not immerse your freshwater pearls in water. They can be cleaned with a soft damp cloth ( just water, no soap or chemicals ) by wiping the surface of the pearl. This should be done at the end of the day before your pearls are placed in their box for safe keeping. Swarovski crystals and semi-precious gemstones can be looked after in the same way.
These tips are for guidance only and Aura cannot take responsibility for damage which occurs when cleaning your jewellery.