About the jewellery
In the Designs

Semi-precious gemstones and baroque pearls have a uniqueness of their own. No two are exactly the same. Their flaws are part of their beauty and have been miraculously created by nature, either underwater inside a shell, or by minerals present in the earth. Some of the stones have been highly polished whilst others are in a more raw state, their facets having been roughly cut making them uneven. This only adds to the interest and the feeling that each pearl and stone has a tale to tell.
Swarovski crystals are the gold standard of crystals in jewellery. So finely cut with myriad colours and designs, it is hard to choose. But, these are what will give your jewellery the sparkle, glamour, and sophistication you deserve. Bohemian fire polished glass and Japanese toho beads have also earned their place beside their flamboyant partners in the designs.
We aim to delight you with your purchase, and to maintain excellent customer service throughout. Each piece of jewellery is individually handmade with the utmost care and attention to detail. For this very reason, orders may take between 2-3 weeks to complete. Smaller items, such as earrings or bracelets, may take less time and be ready for you within several days.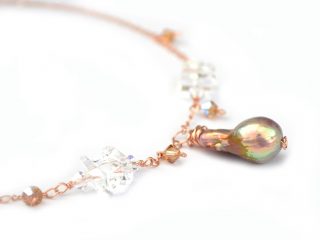 Occasionally it may not be possible to obtain certain products for the designs. On these occasions we will contact you to discuss other available options.